Social Bounce Back Post Pandemic Initiative by Ruma Devi

THE PROBLEM:
Due to Covid-19, the artists and artisans of the Thar desert region were disconnected from their audiences and customers, Social Bounce Back Post Pandemic is an initiative to reconnect them to their audiences and customers.
Providing financial, food and health help for a limited period of time is not really helping them to sustain and retain their livelihoods.
These art forms are a way of living which also help in the conservation of folk art. Now, due to unavailability of exhibitions and live shows, artists and artisans are migrating for other opportunities and cultural heritage is now on the wage of extinction.
For artisans and artists, life has come to a halt, hence no money to feed their families.
Craftspeople - the second largest employment sector in India; Folk artists, who have carried the legacy generation after generation, are fighting a battle of balancing passion and sustainability.
Due to illiteracy and lack of digital awareness, they are unable to even leverage online platforms for their benefits.
Due to not having clarity of upcoming situation of Corona pandemic, they are afraid if they will be able to re-connect with their customers which is leading to the terrific mental and emotional pressure.
OUR SOLUTION:
Digital Literacy Training will be provided to illiterate most needy 1000 artists and 1000 artisans to participate in virtual exhibitions, go online through e-commerce, you tube channel making and managing, conducting live shows through mobile phones etc.
50+ digital live programs and 50+ live exhibitions will be organized for all the artists to perform and artisans to sell their products in niche market.
To promote the artisans and artists internationally, a global virtual Thar Heritage Week will be organized.
A free digital studio will be set up for all the artists to perform or to record their performance with all the technical equipments like camera, mic, live set up, noise proof room etc. The artists will be provided 24x7 technical support.
E-commerce website and a brand will be developed to display the handmade products available for sale of all those rural artisans who have been in veil from centuries.
THE IMPACT:
Due to Corona pandemic, Artists and artisans who got disconnected with their audiences and customers, will be able to re-connect.
They will be to again cherish the art and craft which will lead to the perseverance of our rich cultural heritage.
Illiterate artists and artisans will be able to go live and present themselves by using digital technology.
By performing live and participating in events, there will be unexpected increase in the income of the artists and artisans, and again a sustainable module will be generated for their livelihood.
Basic needs of their families and their selves will be fulfilled.
Mental and emotional pressure will be reduced.
Universal recognition nationally and internationally.
More art and craft-based employment will be generated.
New upcoming generation will be able connect with their cultural heritage.
'Doro' - A Livelihood Generation for rural women artisans through Skill Up-Gradation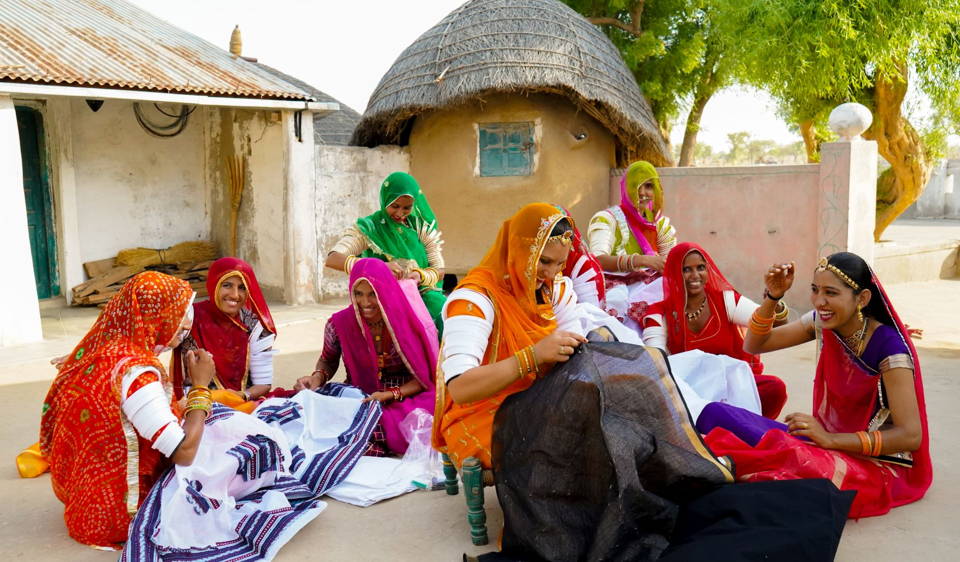 Barmer district is the marginal area in the western Rajasthan and women here does the handicraft work from centuries. Due to lack of skills, market or local mediocres pays low wages to these women. These women donot have financial independency as they have always been dependent on males. They have been limited to the boundary of their houses being in veil. Most of the ladies are willing to learna and earn money to run their houses smoothly.
THE PROBLEM:
Hand embroidery profession runs throughout the year
A person who is skilled with the innovative and fare technique can adopt the hand embroidery profession.
Many clothes related hand embroidery item have been prepared by the artisans like saree, kurta, duppatta etc.
Stole, Dupatta, Sarees, Kurta, Suit & cushion cover etc. items which are prepared by the rural women of the Barmer district which is very costly .The average price of its are different .
Income of artisans related to hand embroidery will increase in 50 to 100%.
Availability of raw material may be possible at local level.
Companies like Fab India & others have been searched through the good production for the export of the ready-made piece.
OUR SOLUTION:
Skill up gradation Training -

Skill development Training will be carried out for artisans for intensive inputs to qualitatively upgrade their production and Micro Entrepreneurship development skills. Before skill training Master trainer will be finalized. Since applique/embroidery has its own requirement of skill, so the selection of experienced Master trainer will be on the basis of the type of skill assessed during diagnostic study. Master Artisans will be providing skill training. SD specialist will provide training for Group formation, strengthening and linkages with financial schemes to artisans group. The existing skill of the applique/embroidery artisans shall be assessed by Master trainer for on developing Training package. Project is planning 15 days course curriculum basic skill development for applique/embroidery work artisans. Only thing is that project should upgrade their existing skills with technological up gradation. Women from urban habitation/dhanis and adjacent rural villages involved in Applique/embroidery work on large scale. According to proficiency level among Applique/embroidery artisans course curriculum by master trainer will be designed according to their skills possesses. 15 days long course curriculum on acquiring advanced skills is being proposed. Master Trainer will visit initially selected Area to discuss with traditional Applique/embroidery artisan about existing skill, traditional tool kit and availability & quality of raw material for all marketable Barmer applique products. After experiencing with locally available infrastructure with Applique/embroidery artisan, Master trainer will finalize tool kit, advanced equipment or machines and type/quality of raw material for all marketable Applique products. At the initiation of training programme, selected tool kit and qualitative raw material will provide to Trainees.
THE IMPACT:
A source of income for women through home-based employment.
Rural artisans are the important tools for development in any country. If the artisans are channelized in an effective manner, they will take the nation towards the goal of being an economically strong and self-reliant state.
The program would facilitate in establishing informal system of skill development and upgrading to facilitate sustainable productive employment and /or self-employment for the rural poor.
Quality of the final goods will be much better
Costing of the products will be reduced
Artisan will be known about the latest and advance technologies and market requirements
Artisans could get rid of middle men and brokers and could get more value of their products
More employment will generate among the artisans and its family members
Up gradation of artisan's skill through appropriate design & technology intervention so as to enable them to use quality raw material, tools and equipment to produce value-added items.
Covid-19 relief fund – To provide ration material to the poor families in desert!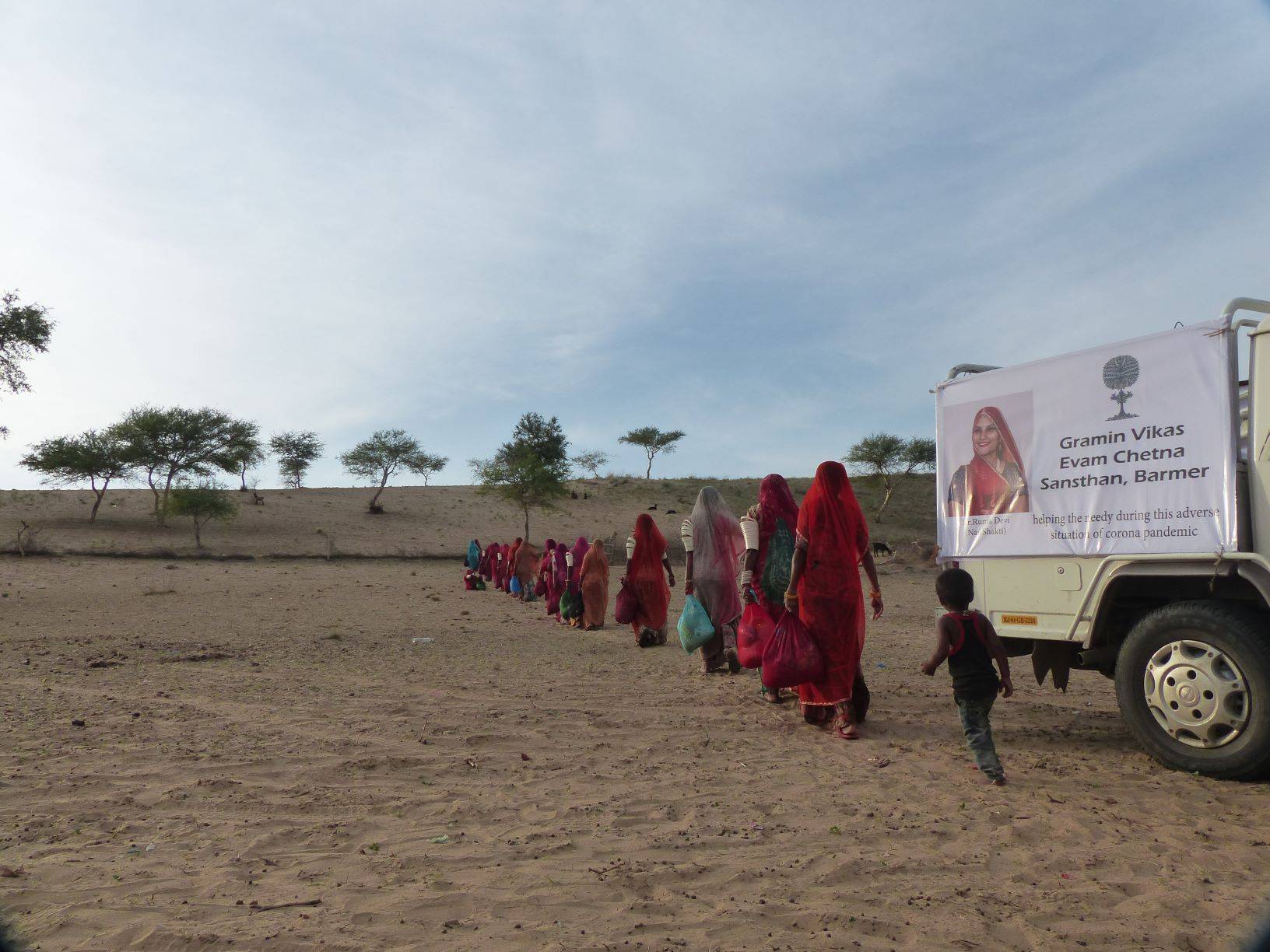 THE PROBLEM:
Barmer district is a marginal and desert region lining the Indo-Pak border . The country-wide lockdown has affected the tribal community and poor laborer families living in the desert between sand dunes. These people live in inaccessible desert areas, where there is no transport facility due to lack of road and it is not possible to reach without a 4 x 4 vehicle. There is an off-road distance of one kilometer between their houses. Most of their families are children, old people, and women. Family men work as daily wage laborers. These people do not have a collection of ration materials and do not have any savings because they have to earn and eat daily. Due to being down for several days, work is stalled and these people have finished rationing in their houses.
OUR SOLUTION:
Our organization has identified 4000 families/houses in the desert area who are suffering from this problem as they have finished rationing in their houses. If someone even wants to buy the ration material, it is not available near their houses. It is necessary now to provide ration material of at least one month to these families because it will take 2-3 months for these people to return to normal functioning after the lockdown. Most of these families will not have any work available for the next two to three months.

For the above mentioned solution, we have made a list of essential ration material items which will be delivered to their houses by our volunteers via 4x4 vehicle which can run in off-road area. For a family of 4 people, these ration items will work for fifteen days and in the very first phase of relieving, we are aiming at 4000 families which will be relieved by providing ration items at their doorsteps.
A team of two can cover 30-35 houses per day by hired 4x4 vehicle and deliver the ration material to them as their houses are off-roads.
THE IMPACT:
By providing ration material, we will save thousands of family from mal-nutrition.

Single mother or lady who is the only take carer of the family will be helped financially as well as mentally by supporting.
The revived craft will not be on line of extension once again as these are people who practices on the appliqué craft.
The future of India will be saved by providing ration material to the families.